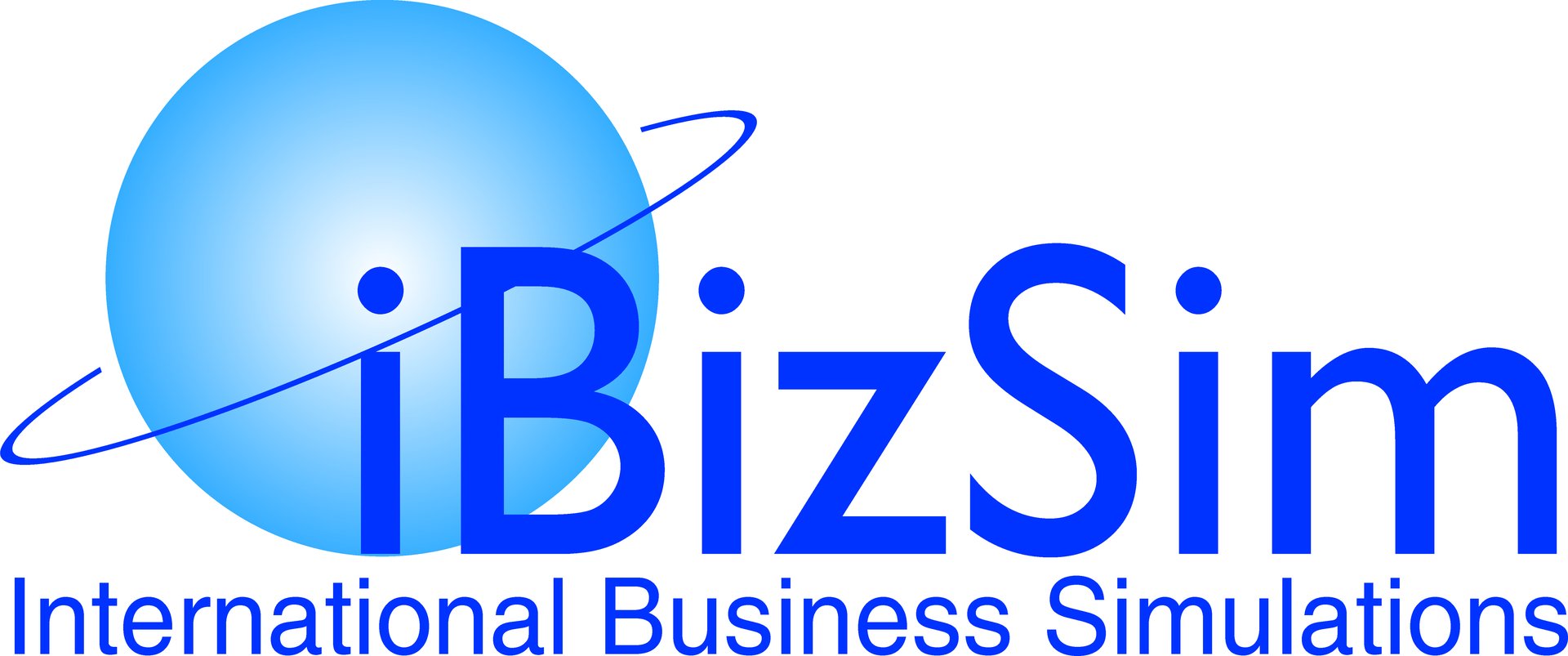 iBizSim: International Business Simulations
What is iBizSim?
iBizSim is an acronym for International Business Simulations. The business simulation covers all aspects of manufacturing products and marketing them internationally. Exchange rate fluctuations used in the simulation, for example, reflect real-world situations in international markets. iBizSim is a teaching tool that faculty members of business schools can use as the core of any specific business course covering Marketing, Operations, Purchasing, Finance, International Business, and/or Strategy and Planning. It is usually used in an integrative, capstone business course, in which the company is depicted as a complex, integrated whole, comprised of the different divisions and departments working together in well-defined ways. It is a learning-by-doing tool in which teams of students are given the responsibility to manage a simulated company. It enables the students to apply what they have learnt theoretically, to learn how to define goals and strategies, to implement plans and to develop controlling systems to evaluate the performance of the simulated company they are managing.
What can iBizSim offer you?
iBizSim is a very cost-effective business simulation for business schools that want to incorporate business simulations into their curriculum. The different licensing models enable the business schools to choose the one that suits their usage and budget constraints. It supports faculty members by training them in the understanding and use of the business simulation. The free 3-day train-the-trainer seminar is offered frequently and aims at providing all the background information on the internal models used in the business simulation. It provides the students a rich learning experience that covers all aspects of managing an international company. iBizSim challenges students to use all that they have learnt in all their other business courses. They also learn to work in a team, accept and respect team mates, and contribute to the efforts of the team. Since iBizSim means International Business, it adds tremendous value to the student's global perspective of business and business management.
Why should you use iBizSim?
iBizSim is a tool that can be customized according to the needs of any course. It is very cost-effective. The support it offers to both the faculty members and the students is very good. It responds to suggestions for changes, extensions and modifications made by users and these are incorporated into new and updated versions very quickly.
Simulation models
iBizSim is available in several different simulation models and their variations. We use the term models to describe the scenarios of the simulation.
A model/scenario consists of products, markets, production facilities, raw materials and currencies. It also includes the changes that take place over the periods. Such changes are, for example, the state of the economy in the various markets, the product life cycle of the products and the purchase price of the raw materials.
Model 1 is comprised initially of two products Alpha and Beta, and four markets EU, NAFTA, ASEAN and MERCOSUR. The currencies used in this model are Euro, US Dollar and Japanese Yen.
Model 2 is also comprised initially of two products Alesa and Bordo but with four other markets Germany, USA, China and India. The currencies used in this model are Euro, US Dollar, Chinese Yuan Renminbi and Indian Rupee.
Models 3 and 4 are extensions of the corresponding models 1 and 2 with each product having two product variations.
The first market in each simulation model is the home market of the simulated company.
The production in each simulation model is located in the home market of each model. The raw materials needed for the production are different for each product.
The company finances and accounts are in the currency of the home market. Exchange rate fluctuations affect the profitability of the different markets.
Phase structure
This is a distinguishing and unique feature of iBizSim. The phase structure was developed after many years of academic use and the evaluation of the learning that takes place in courses that use business simulations.
This phase structure dramatically shifts the focus away from "winning a business game" to the main objective of all academic courses, learning.
We recommend that a course using iBizSim be done in the following four phases.
Phase 1 is the learning phase in which the students explore and understand the simulated environment, the management of the simulated company and the user interface to the business simulation. The student teams set up spreadsheet templates to develop the marketing and sales, operation and finance plans based on the goals defined. These templates are used to understand the operations of the company and refine the strategy that would be used. The students also learn to understand and accept the strengths and weaknesses of their teammates and to start working together as teams. Since this is only the learning phase, the mistakes made and the results achieved during the learning phase do not count towards the final evaluation.
Phase 2 is the preparatory and analysis phase in which the student teams are encouraged to develop an integrated planning model using a spreadsheet program by cross-linking the individual templates for the marketing and sales plan, the production plan, the purchasing plan and the finance plan. This integrated planning model is then used as a management tool in analyzing the state of the simulated company and its products and markets, and defining the goals and the strategy for the coming fiscal year. At the end of this phase the teams should submit a written report called the strategy paper which includes the defined goals, the chosen strategy and the marketing, sales, production, purchasing and finance plans.
Phase 3 is the doing phase in which the students start with a new opening situation. It is expected that the teams are functioning efficiently and each team member is contributing to the best of his/her ability. It is also expected that the student teams implement the strategy that was defined in phase 2, develop a controlling system to check on the results and make appropriate changes in the strategy. The results of the company are compared with a benchmark company that has absolutely no management. The students have to do better than this benchmark company in order to get a good grade. The company results are also compared to the goals defined in the strategy paper.
Phase 4 is the phase when the final learning through reflection takes place. The student teams are required to analyze the results of their company in phase 3, compare these results to the goals defined in phase 2 and explain the differences between the expected, planned values and the actual results. The final written report, called the analysis paper, is the result of the controlling exercise and includes a critical analysis of the company and the performance of the management team.
iBizSim fully supports this phase structure in all our simulation models. The students go through the learning phase 1 with one set of data that includes the starting situation, the parameters and the scenario over a number of periods. They then switch to a slightly more complex and challenging environment for phases 2, 3 and 4.
Types of licenses
We offer several different types of academic licenses to use iBizSim. This allows each business school to choose the license type that suits its expected usage pattern and any budget constraints.
Student-based license: The license fee is charged for each student registered for a course using iBizSim. The license is valid for one course only. Business schools choose this license type when the number of students taking part in the course is small.
Course-based license: The license fee is charged for each course that uses iBizSim. There is no limitation on the number of students taking part in the course. Business schools choose this license type when a larger number of students is expected to register for the course and the course is offered infrequently, for example once a year.
Annual license: The license fee charged for each license year. There is no limitation on the number of courses offered during the license year or on the number of students taking part in these courses. Business schools choose this license type when courses using iBizSim are offered frequently. This is usually the case when iBizSim-based courses are offered on several different academic programs.
Unlimited license: There is a one-time license fee charged at the time of signing the agreement. The license is for an unlimited period of time. There is no limitation on the number of courses using iBizSim or the number of students taking part in these courses. The license includes all updates for the first calendar year. At the end of every year, we offer an update agreement for a small fee. This update agreement ensures that all updates available in the following year are available and installed without any further charges.
Corporate licenses: Please contact us if you are interested using iBizSim for corporate training programs.
Installation options
iBizSim is a network-based, client-server application. This means that the application is installed on a server and any client can access it over the network.
Students, the clients, only need a browser to access iBizSim. The browser can be any standard browser running off any operating system. The students are not required to download and install any software package in order to access iBizSim.
There are two options to use the iBizSim server.
From your dedicated server: This is the recommended way of using iBizSim for the annual and unlimited licenses. You agree to set up a dedicated server in your campus network. You provide a simple, standard PC and we install, free of charge, the complete system from scratch. The only requirement is that your dedicated server is accessible from the internet, so that we can carry out the installation via the internet.
From our dedicated server: This is the recommended way of using iBizSim for the student-based and course-based licenses. We also provide this alternative to business schools with annual or unlimited licenses that may have difficulties in setting up their own dedicated servers. This is frequently the case when campus policy and/or firewalls prohibit such a campus-based installation.
Under the first option, the students would access your iBizSim server within your intranet. With the second option, the access to our server would be off the internet.
Users
iBizSim has been used in courses offered to students from some of the leading business schools and universities across the world.
Reutlingen University, ESB Business School, Germany
Reutlingen University, School of Textiles and Design, Germany
Landshut University of Applied Sciences, Germany
University of Augsburg, Kontaktstudium, Germany
University of St. Gallen, Switzerland
Portland State University, School of Business Administration, USA
San Diego State University, College of Business Administration, USA
California State University Hayward, College of Business and Economics, USA
Philadelphia University, School of Business Administration, USA
Western Kentucky University, Gordon Ford School of Business, USA
Southeastern Louisiana University, College of Business, USA
Texas Tech University, College of Business Administration, USA
Niagara University, College of Business Administration, USA
Kettering University, Department of Business, USA
University of Lethbridge, Faculty of Management, Canada
Instituto Tecnológico y de Estudios Superiores de Monterrey, Mexiko
Universidad Católica de Valparaíso, Chile
S. P. Jain Institute of Management and Research (SPJIMR), India
Mudra Institute of Communications Ahmedabad (MICA), India
Institute of Technology and Management (ITM), India
K.J Somaiya Institute of Management Studies and Research (SIMSR), India
Ecole Superieure des Sciences Commerciales d'Angers, France
European Business School London, UK
University of Portsmouth, UK
Московский Государственный Институт Международных Отношений (Университет) МИД России, Russia
Государственный Университет Управления, Russia
Институт Промышленного Развития "ИнФормэлектро", Russia
Санкт-Петербургский Инженерно-Экономический Университет, Russia
Külkereskedelmi Főiskola Budapest, Hungary
Universitatea de Vest "Vasile Goldiş" din Arad, Romania
Swinburne University of Technology, Faculty of Business and Enterprise, Australia
Testimonials from faculty members
Prof. Dr. Vasant Sivaraman, S. P. Jain Institute of Management & Research, Mumbai, India
Simulations serve as a very effective learning tool and this conviction is borne out by my use of iBizSim over the past seven years. As would be expected from a tried and tested business simulation, iBizSim serves as an excellent platform to appreciate and apply various management concepts and frameworks. The cross functional perspective that is essential for a general management role is truly well delivered to the participants when they work with iBizSim. It is demanding enough in terms of planning rigor and a scope that stretches across business functions and yet not complicated to the extent of reducing results to a game of chance.
Across programs like a conventional two year MBA for people with less work experience, one year MBA for people with more work experience and executive MBA programs, iBizSim has been a very well received capstone course that also aids students in better decision making. Towards the end of the program, this works as a full credit course to discover and reinforce key takeaways from courses in operations, marketing, finance, strategy etc. When used as a pedagogical tool for teaching concepts, iBizSim serves to integrate business learning in a manner well appreciated by the class.
iBizSim has also been a wonderful success when used in corporate training programs as evidenced by the fact that one multinational company has worked (with SPJIMR) using iBizSim on a repeat basis for its international managers.
At SPJIMR, we have deployed iBizSim beyond academic programs in a 'student competition' since participants find it challenging and engaging.
The simulation is robust and maintenance/development support from Dr Ullal has been outstanding. Turnaround time for inputs from him has been exceptional and upgrades/modification requests have been dealt with promptly. Over time, several improvements have been incorporated in upgrades based on user inputs from different countries. Dr Ullal has been flexible to customize the simulation logic as also simulation reports in order to accommodate specific deliverables we desired at SPJIMR. A distinct advantage with iBizSim is that the developer combines strengths in the conceptual content as well as the design architecture which enables an unique ability to detect occasional flaws that may arise from new releases and to swiftly address the matter. Dr Ullal's technical capabilities with networking, databases, software etc and his real time support mean that all courses function seamlessly from a participant perspective.
When compared with other simulations, iBizSim is priced very competitively and it delivers great value.
Prof. Bindu Kulkarni, S. P. Jain Institute of Management & Research, Mumbai, India
As you may be aware we at SPJIMR use simulations extensively to make learning effective and engaging. Over the years we have been using Marketing simulations by Stratx Simulations, Project Management & Operations simulations by HBS, Blue Ocean Strategy simulation (BOSS) by Stratx Simulations, Business simulations like CAPSTONE by Capsim Inc and iBizSim developed by you.
It has been about 7 years since we have been using iBizSim in our "Decision Making" and "International Business Strategy" courses across programs such as PGDM(2yr full time program), PGPM (1 year full time program) and PGEMP (18 monthth executive management program).
What makes iBizSim different from other simulations is that it makes participants work with a lot of data, interrelate it across functions to get view, make their own Excel models to help and direct them in decision making. While other simulations have an option of using in built proformas here the participants have to dirty their hands to build the forecast models.
Equal emphasis on Marketing, Production, Procurement and Finance makes it a business simulation in a true sense. By the end of the simulation the participants appreciate the work involved in all these disciples and realize that business cannot be run in silos.
Your prompt help in resolving issues, the desire and speed in incorporating any new ideas is always appreciated.
Our students across all programs have consistently given us a favourable feedback and this reinforces our choice of using iBizSim regularly.
Prof. Dr. Veni Nair, ITM Business School, Navi Mumbai, India
ITM Business School has been using iBizSim for the past three years for the PGDM students.
This simulation exercise provides students the opportunity to build and implement an international business strategy for a simulated company operating in the world markets. Apart from complementing their classroom learning, it also equips them in running a business.
Unlike other simulations, iBizSim incorporates all the functional areas of the business, which ensures that decisions are taken only after considering all the functional aspects of the business. Thus students get a complete and integrated approach to running a simulated company.
Testimonials from students
Anna-Carina, Germany
The ultimate goal of successfully simulating the senior management of a company that would operate in four different markets taught me what real business is all about and how important critical thinking is in making correct decisions. I soon realized that not only the knowledge of a certain department is crucial, but to keep a continuous overview of all business functions and to juggle between these different sectors. Thus, my team would gather information from all topics and build up a construct that would combine different aspects such as financial responsibilities or the investment into marketing research reports. When we combined our knowledge of different business functions, my team clearly put theories learned during classes into practice when making these decisions.
This simulation made me realize how theoretical knowledge can be implemented in the continuously changing world, how important the divergence of different business functions is and in particular, how crucial good teamwork is for a company's success.
Arne, Germany
After the first day I realised that I had underestimated the level of complexity of this simulation and overestimated my skills and knowledge in how to tackle the planning for the different periods in a structured way. This course not only gave me the opportunity to work on my practical skills in strategic planning, but also enabled me to understand interconnections between different economic concepts, forced me to revise and think about all theoretical knowledge I have gained in the lectures so far, and, above all, helped me to improve my team skills in a time frame that comes close to the reality I have experienced during my internship in consulting.
Amar, India
iBizSim was great. It really tested our concepts given the facts that the models had to be built by us. It was also very realistic in the sense that it accounted for the lead time to order raw materials, the production in a period was not available immediately.
Also it covered the full cycle for a business - from ordering raw materials to handling the distribution and sale of finished goods.
Rakesh, India
The simulation was a very good experience and required application of most of the concepts learned in the PGEMP. The simulation helped to understand the importance of various functions in the organization like finance, marketing, production etc. The key learning was to manage and plan all these functions before a decision was made. Unplanned decisions often led to company making huge losses and landing into high debts.
Also it covered the full cycle for a business - from ordering raw materials to handling the distribution and sale of finished goods.
Iliyan, Russia
What I found really useful is the way how the simulation was actually built. I think it was rather realistic and the fact that we were operating on 4 different markets made it even more challenging. Moreover, the economic situation in each of the countries was changing after the end of every period and that was also playing a huge role for the outcome of our decisions. There were other external factors like the fluctuation of the local currencies and by that we had to prevent any possible exchange rate losses for instance. What the simulation offered as a whole was a very accurate picture of the basic economic situation and the level of detail stemming from each one of the different layers of the management was at a relatively high rate.
Tiffany, Germany
I gained a more holistic picture of a corporation. I have never had much contact with the areas of finance or production. Neither did we have classes, nor did I get in touch with these departments during my internship. I learned about the functions related to these areas and the importance of having an integrated knowledge of all departments and how they are linked.
I realized the significant difference between goals and strategies. Before I would not distinguish between the two of them and even believed they were synonyms. Now I know hat goals state what one actually wishes to achieve with an action verb and that they are numerically measurable. Strategies are ways to achieve goals.
I learned about the importance of an understanding of a company as a whole, about the challenges managers encounter and that one can work hard and effectively and still have fun!
Who are we?
We are a team of dedicated users of business simulations built around our chief developer Dr. Ashok N. Ullal. We contribute ideas and suggestions that are incorporated into iBizSim and delivered on the frequent updates.
We are also a team of programmers and IT specialists in Germany and India that uses many of the cutting-edge technology, methodology and tools available today to continuously update and upgrade iBizSim.
We have more than 35 years of experience in designing, developing and using business simulations in the academic and corporate worlds.
Our business simulations are used by business schools in many countries across Europe, in the USA and in India.
We have developed special business simulations for major corporations like Hewlett-Packard, the Mercedes-Benz Division of Daimler and Novartis.
Our chief developer
Prof. Dr. Ashok N. Ullal has been responsible for designing and developing our business simulation iBizSim for more than four decades.
He was born in Mumbai, India. He graduated from Bombay University, India with a B.Text. Dist., completed his M.S. at the North Carolina State University, Raleigh, NC, USA and was awarded the German doctorate degree Dr.-Ing. by the Technische Universität Stuttgart, Germany.
He is Professor emeritus and former Dean of the School of International Business, Reutlingen University, Germany, where he taught courses in Information Technology, Business Simulations and Intercultural Communication and Negotiation. The School of International Business (now merged into the ESB Business School) and its undergraduate and MBA programs are usually ranked in the top five business schools and programs in Germany.
He has taught courses using his business simulation at many universities and business schools in the USA, across Europe in Germany, France, the UK, Spain, Italy, Hungary, Russia, Poland, Hungary and Romania, and in India. He is invited frequently as a visiting professor to business schools to teach his favorite courses "International Business Strategy and Planning" and "Intercultural Communication and Negotiation".
History of iBizSim
The earliest version of the series of business simulations that has now culminated in iBizSim was developed more than 35 years back. Two aspects were important right from the very beginning. First, the business simulation had to be focussed on international business. Second, the software environment and tools used for developing and deploying iBizSim had to be independent of hardware and operating system constraints. This second requirement was met by using the standard business programming language of those days, Cobol, and the deployment was on mainframe computers that only had batch processing capabilities.
The second generation of iBizSim resulted when a database system was incorporated as the back-end process of the business simulation. A proprietary 4th generation language and its database, Progress, were selected because of its hardware and operating system independence. The use of the back-end database enabled the separation of the data model from the presentation and calculation logic, and hence it was possible to develop, modify and maintain different data models without involving any programming effort. The availibilty of on-line, multi-user operating systems allowed the iBizSim users to interact directly with the application, enter their decisions and display their reports on their own.
The current version of iBizSim is a network-based, client-server implementation. This enables users from any location in the world to access the application. The implementation uses a three-tier structure. The back end is a database server (PostgreSQL), the front end is any standard web client or browser (MS Internet Explorer, Mozilla Firefox, etc.) and the application server in the middle is a standard web server (Apache with PHP). The back-end database and the middleware application servers are deployed under the operating system Linux. Thus only open-source tools and operating systems are used in the development and deployment. The front-end users could use any standard browser off any standard operating system.
Privacy Policy
Published 4. August 2018
This website is operated by iBizSim: International Business Simulations.
This document explains our privacy policy as required by the EU's General Data Protection Regulation (GDPR).
iBizSim does not collect any information that can be used to identify, locate or contact you. The only exception is stated in item 3.
iBizSim does not set any cookies in your browser, nor does it track you.
The iBizSim web server keeps copies of the server's access logs, which contain the IP address of the device you use to access GSIMS website. iBizSim does not analyze the access log files to collect personal information. The access log files are deleted automatically after 14 days.
iBizSim will never attempt to contact you unless you initiate the contact.
You can always reach us online at:
info@ibizsim.com
You can also reach us via mail at:
iBizSim: International Business Simulations
Hoelderlinstrasse 13
72127 Kusterdingen
Germany
Legal disclosure
Full contact details
iBizSim: International Business Simulations
Hoelderlinstrasse 13
72127 Kusterdingen
Germany
Tel.: +49-7071-931016
Fax: +49-7071-931018
Webmaster of this site
Contact Details
Postal Address:
iBizSim: International Business Simulations
Hoelderlinstrasse 13
72127 Kusterdingen
Germany
Phone and fax numbers:
Tel.: +49-7071-931016
Fax: +49-7071-931018
Email Address: